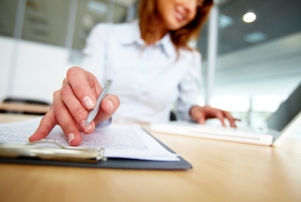 The writing of CV (Curriculum Vitae) is often a stumbling block on the way to the desired position. How to make it meet all the requirements and present you in a positive light? Considering that the employer has no time to read into each CV, you will have to summarize short life experience and the same achievements only on one page.
Standard CV form
Personal Information;
Objective;
Work Experience;
Education;
Additional Skills;
References.
The main points
Think of:

All your previous experience paid and not very paid, the whole time and half-day, all activities and responsibilities;
Educational background: levels and certificates of training completion at various institutions;
Additional activities: status of a member in various societies, military service, etc.
Select most essential facts. They will form the basis of your narrative summary. If it's not enough, contact the cv writing service.
Begin at the beginning
Start with your legal name, residential address, landline and cell phone numbers, Internet mail in the paragraph Personal Information.
Explain how you see yourself in the company and why this seat is cut out for you. Present your recent advances in this area. Advertising yourself in the Objective paragraph, you may get a bit ahead of inert rivals. For example, don't hesitate to use more adjectives, it will revive the text and reflect it in an emotional form. But you shouldn't go too far. Otherwise, your would-be boss may get scared and say no.
Next, go to the Work Experience paragraph and start with your last job. Specify the name of the company, its profile, your position. Mention your achievements. List previous employment in reverse chronological order, starting from the last one.
Don't divide employment history into groups depending on the activity category. That might be a problem, as the employer may not read it at all. Don't specify reasons for changing jobs. This is the case when silence is golden. Describe when what and where you graduated from and in what speciality in the Education paragraph. List all additional qualifications, internships related to the desired position.
Additional information on foreign language skills, computer experience, possession of a driver's license, etc., should be listed in the Additional Skills paragraph if it relates to a new position.
Usually, a CV ends with the References paragraph, in which several guarantors from previous employment (preferably direct superiors) with their positions, company names, contact phone numbers and email addresses are presented.
The last point REFERENCES may be replaced by the phrase "Available upon request." And again, it would be useful to envisage a CV of no more than 1 page. If you get beyond the boundaries of this volume, your second sheet can expect the sad fate of other disappeared sheets. That is it may get lost or join someone else's document. Or, quite simply, it can't be read. Therefore, if the amount of information that you want to convey to the employer, exceeds the amount of one page, specify on each page your personal and contact details. This, at least, will definitely help you to avoid any confusion. Good luck!